PAYTRAIL
Paytrail is the most safest online payment method in webstore. It works anywhere and on anything connected online!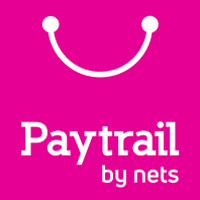 Paytrail is supporting major international credit cards such as Visa, MasterCard and American Express .

Paytrail payments with VISA, VISA Electron or MasterCard
Brokerage fee to implement the service and the payment service provider acts as Paytrail Corporation (FI2122839-7) in cooperation with Finnish banks and credit institutions.
Visa, Visa Electron or MasterCard payments that are made Paytrail Corporation shows the payee card invoice and forwards the payment to the seller. Paytrail Corporation has a payment institution license.
Paytrail Oyj
VAT: FI2122839-7
Innova 2
Lutakonaukio 7
40100 Jyväskylä
Phone: +358 207 181830
Learn more about Paytrail from HERE
PAYPAL
PayPal Standard gives you another way to pay. PayPal Standard is a fast and easy way to pay using PayPal.
Enjoy the convenience and security of PayPal, where you can pay with your PayPal balance, bank account, or credit card.
Accept payments from any PayPal account
Eliminate the need filling in your personal information, like shipping and billing address or payment information
Returning safely to our site after completing the transaction
Learn more about PayPal Standard Checkout from HERE